Yesterday was September 28, which means I officially become an adult in Japan! (In Singapore, it's 21, although we can start drinking from 18). I really wanted to spend it in Singapore, but I had stuff to do at school on the 27th, so I had to come back. Instead, I went to Huis Ten Bosch (yes, again), with my classmates (this part's new) for a one night stay (that's new too)!
We were on the Ladies Plan, which was actually very worth it. For 21000 yen, we had a one night stay, free gifts (three actually), dinner (Cheese fondue - that was soo soo good) and breakfast and two-day passports to Huis Ten Bosch. I think we really saved a lot, considering that a two-day passport 11000 yen.
We had a pretty good stay, although I didn't imagine that we would rush around so much! There was a bunch of really pretty illuminations, and hopefully, I can make at least one Google+ Gif from it. But for now, enjoy the photos (one from each illumination)
At the Thriller Fantasy Museum
Art Garden
Palace Huis Ten Bosch
There were also 3D pop-out illumination (wait, I forgot the exact name), which they featured on buildings and were remarkably 3D. I really thing Huis Ten Bosch has got this 3D thing down. Enjoy more photos!
I don't know why, but I like the zip :D
The robot posed for photos!
Somehow, the huge clock makes it look like
this Barbie (I think it was barbie) castle I once had.
Ok fine, it's not a party for me, but I can
pretend.
And since we were staying over, we even got invited to a masquerade party, which was just dancing (we followed the dancers on stage). It was actually really fun, considering that I'm the type of person that's really self-conscious about dancing.
The cape they lent, the mask, I kept
(obviously everything is a form of pink)
I actually have loads of night photos, which is basically the same buildings in different colours. So if you do want to see those (and you're on Google+), drop me a comment and let me know!
The really fun part of going with friends was doing stuff together. I like going alone to take photos, but for things like Haunted Houses, Adventure Park, it is way more fun to have people do them with you. And it was a good opportunity to talk more with my classmates (plus, I didn't use Japanese for 25 days, I needed the practice).
Today, we (me and one other friend who's also 20) decided to go for the Wine and Cheese Festival, which is misnamed and should just be called the "Wine Festival". For 2000yen (1800yen for yearly passport holders like me(; ), we got to try as much wine as we wanted to.
There are two other tables besides this.
Now, I'm not much of a drinker, so after about two hours of wine tasting, I think I got a little drunk. At least now I know, when (slightly) drunk, I just get really really unsteady. The weirdest thing I did was to drop half a cup of dippydots icecream and say "oh yeah, I can use this as an excuse to do weird things". And I did buy a bottle of wine too (I had a 500yen coupon, it made sense to buy it at this time):
Dinh! This photo is for you!
Now, what did I learn from this? Well, I learnt that:
a. I like White Wine better than Red Wine
b. 13% alcohol content and above is way too much for me. Even if they say it's 'sweet', it still has a bitter aftertaste.
c. 6-7% is much better. It tastes good, and goes down well.
d. 2-3% doesn't taste like alcohol, which may be dangerous because I'll probably end up drinking more.
e. I go red really easily, but if you give me about three hours and books to read, I'll be fine (seriously, after three hours, I finished two books and was perfectly fine - one hour of walking and two hours of reading).
f. Apple pie cheese does taste like apple pie, and smoked cheese tastes like sausages (I caved and bought cheese too)
Hi Dinh! This is me when drunk.
And this is the wine I was drinking then.
And now for what may be the most important part.
You may have figured out that I don't use the internet much on trips. So last night, when I decided to check Google+, I was way surprised and way touched to see that people actually wrote me messages (I got back and counted 19 messages). Some even attached really beautiful photos, and I even got a birthday message in German! (And Chinese, and Japanese and of course English). To those 19 awesome Google+ users, you know who you are and I'm so so touched that you wrote the message. I know Google sends notifications and stuff, but you could have ignored that. You didn't, and you really made my day yesterday.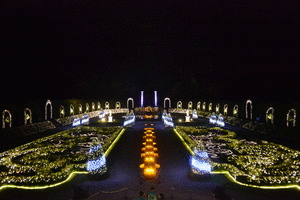 Here's a gif I made of the light show(: